The Cruising World reviewed by you
Search a cruiseship or a cruiseline
Latest reviews
Esperienza unica su Costa Smeralda
Voted 89.90/100 on 29/02/2020
Splendida nave sia all'interno che all'esterno. Lo staff è stato molto gentile ed efficiente. Interessantissimi spettacoli teatrali. Cabine molto curate e pulite. Bellissima la Spa, dove io e il mio compagno ci siamo rilassati con un bel massaggio. Sono sicura che ci ritorneremo per un'altra splendida esperienza!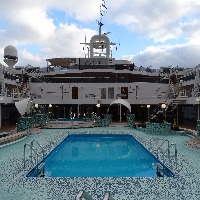 Mary81
Buon prezzo, Msc Armonia da Miami
Voted 71.40/100 on 29/02/2020
Ottima offerta con Msc Armonia da Miami verso Caraibi. La nave ha qualche annetto e lo dimostra in alcuni ambienti, ma ovunque è pulito e sempre in ordine, cabina compresa. La ristorazione è abbastanza buona al buffet, un pò povera al ristorante serale. Nel complesso siamo stati bene.
Most reviewed cruiseships
Ships with the most reviews among Cruising Journal readers
Most liked cruiseships
Ships with the current highest scores on Cruising Journal
Get on board! Sign up and share your travel experience
Cruising Journal, the portal of Cruiseships reviews!
Cruising Journal allows you to discover the ships in advance, through the reviews of cruise passengers! Read the Reports, the Travel Journals, look at the Photo Galleries and the Videos of all the Cruise Companies. Are you looking for the ideal ship for your next cruise? Or have you just returned from your trip? Do you also want to become a "Cruise Expert"?! Register and review your ships!