The Cruising World reviewed by you
Search a cruiseship or a cruiseline
Latest reviews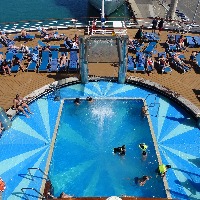 Filomena72
Recensione Costa Diadema a Dubai!
Voted 78.76/100 on 27/03/2020
Nostra prima crociera, esperienza bellissima ed emozionante. Imbarcati a Dubai, prima volta anche per quello che riguarda questa zona. Cabina con balcone spaziosa, luminosa e sempre pulitissima. Personale ovunque cortese e disponibile anche se a volte dava impressione di essere veramente affaticato. Buono il buffet, con tanta scelta e zone particolari con specialità varie. Il ristorante era meno convincente, sempre tanta confusione e piatti poveri. Nel complesso una bella esperienza che vorremo ripetere, magari con i figli!
Crociera ferma agli anni 90!
Voted 64.20/100 on 24/03/2020
Decisamente vecchia, dal depliant l'avevo già capito che non fosse moderna ma quando ci sei sopra te ne accorgi. Niente di particolare, una semplice crociera con ogni minimo arredamento fermo agli anni 90.
Most reviewed cruiseships
Ships with the most reviews among Cruising Journal readers
Most liked cruiseships
Ships with the current highest scores on Cruising Journal
Get on board! Sign up and share your travel experience
Cruising Journal, the portal of Cruiseships reviews!
Cruising Journal allows you to discover the ships in advance, through the reviews of cruise passengers! Read the Reports, the Travel Journals, look at the Photo Galleries and the Videos of all the Cruise Companies. Are you looking for the ideal ship for your next cruise? Or have you just returned from your trip? Do you also want to become a "Cruise Expert"?! Register and review your ships!