Fridtjof Nansen
1 reviews | 372° place out of 666
66.81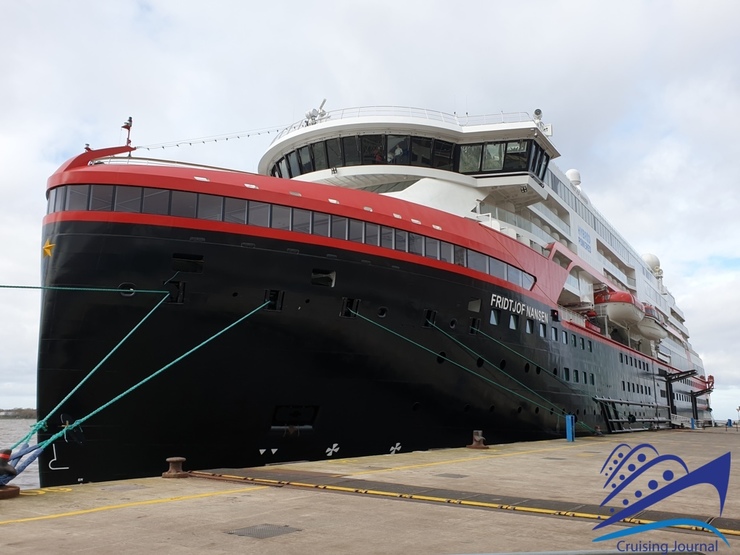 Details
Shipyard

Kleven Maritime

Year

2020

Length

140.00 m

Beam

24.00 m

Tons

20,890 gt

Decks

9

Cabins

265
Passengers

530

Crew

150

Crew/Pax ratio

1 : 3.53

Currency

EUR

Language

English

Flag

Norway
Description
The Fridjof Nansen, built in 2020, was the second of three new expedition cruise ships from Hurtigruten when it entered service. This ultramodern ship has a new hybrid technology that is particularly environmentally friendly and sustainable which significantly reduces fuel consumption. The Fridjof Nansen is specially designed for travel in polar waters and has a capacity of 530 passengers.
Its interiors are essential, modern in style, and very comfortable. At the bow an observation point both indoors and outside, offers spectacular views of the places visited.
Kai Ortel
Embarkation and disembarkation
Crociera inaugurale Fridjof Nansen
I liked
Elegante e accogliente
I didn't like
Poco stabile, servizio ristorazione essenziale
Fridjof Nansen è una nuova nave di spedizione di Hurtigruten, gemella della precedente Roald Amudsen. Gli interni sono moderni ed eleganti, nella semplicità di stile nordico. Personale molto cordiale e gentile. Cabine grandi e confortevoli, sistemate una volta al giorno. La ristorazione è piuttosto buona, offre porzioni non grandi in genere. Purtroppo al di fuori dei tre pasti principali non ci sono altre possibilità di avere qualcosa a bordo. Non si stampa il programma del giorno, consultabile solo sugli schermi e sulla app. Non sono un tecnico ma purtroppo la nave, anche in condizioni meteo non particolarmente difficili, è molto instabile e suggerisco cabine centrali per poter riposare. Wifi gratuito illimitato. A bordo non esiste intrattenimento di sorta, se non qualche ora di pianoforte nell'Explorer Lounge. Bibite e vino sono compresi soltanto nei ristoranti. Nel complesso esperienza interessante, naturalmente Hurtigruten è da provare su begli itinerari artici e antartici.
---
Northern Europe, Svalbards, Greenland
---
Ports of call: Tilbury, Portsmouth, Portland, Liverpool
---
Embarkation and disembarkation
Buffet restaurants quality

Speciality restaurants quality
Would you cruise this ship again?

Do you recommend this ship?
---