Vaikundam
1 reviews | 272° place out of 580
86.50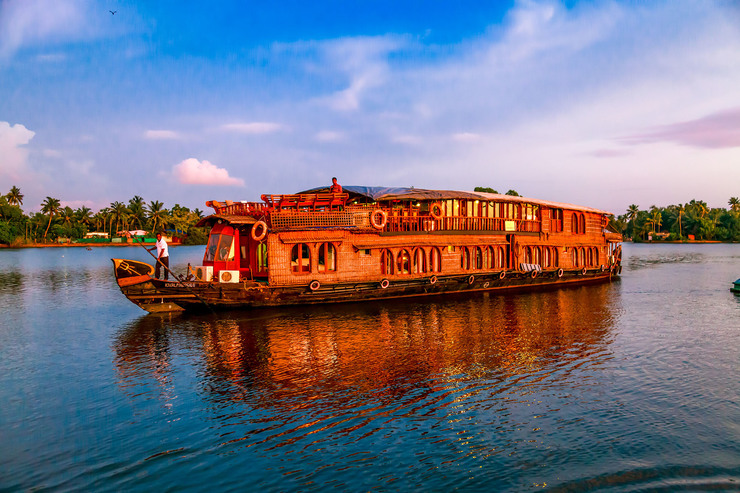 Details
Shipyard

Year

2000

Length

0.00 m

Beam

0.00 m

Tons

0 gt

Decks

2

Cabins

9
Passengers

22

Crew

Crew/Pax ratio

Currency

INR

Language

English

Flag

India
Description
The RV Vaikundam is an Indian river cruise ship that cruises along the banks of the Kerala River. Kerala is characterized by a network of lakes and brackish lagoons that run parallel to the coast of the Arabian Sea for 900 km. RV Vaikundam has 9 well-appointed cabins with private bathrooms on the lower deck and a kitchen based on local recipes, an air-conditioned dining room furnished in Indian style and an open lounge on the upper deck. The rooms are made of wooden panels, poles and bamboo mats, following traditional practices, but have all the necessary amenities.
The wooden hull of the boat is made by joining planks of local "Aanjili" wood using strong coconut rope. The wood is coated with a black corrosive resin made by boiling cashew nuts and fish oil, and is regularly treated with neem oil and fish oil. During the Kerala trip, one has the opportunity to visit beautiful villages to acquaint the traveler with the daily life of the friendly and helpful local people who are busy fishing and collecting shells.
Meri Biagetti
Embarkation and disembarkation
Aventures indiennes
C'était notre première croisière en Inde et nous ne l'oublierons jamais. Le navire est d'une bonne taille pour naviguer sur un fleuve, et nous avons passé notre temps à bord dans la salle à manger, le salon confortable avec bar et le pont soleil. Le service était exceptionnel, avec un personnel amical et compétent, et il y avait de nombreuses activités de divertissement amusantes. Les repas étaient délicieux et fréquents, avec une grande variété d'aliments, dont de nombreux plats locaux. En outre, notre expérience a été complétée par les magnifiques excursions et aventures que nous avons vécues, comme l'observation d'oiseaux rares, la visite d'une fabrique de fibres de coco, des danses traditionnelles et bien plus encore !
---
---
Ports of call: Kerala, kochi
---
Embarkation and disembarkation
Buffet restaurants quality

Speciality restaurants quality
Would you cruise this ship again?

Do you recommend this ship?
---