The most useful apps on a cruise
---
14 most useful apps  that will help you get the most out of cruising! Let's discover them with Cruising Journal!
All of the major cruise lines, such as Carnival, Disney and Norwegian have their own apps to guide passengers through check-in and their time on board. But there are also a large number of apps that can allow passengers to get even more out of their cruise. From helping passengers stay on budget while on board, and recording their trip, to identifying the fish they encounter and the stars they see in the sky, these apps can help you make the most of your trip. Here, then, are some of the best.
Ship mate
Want to find like-minded passengers to meet up with on-board? Or maybe you are looking for a good Japanese restaurant in Nassau or the fastest route from your cabin to the pool? This multi-purpose app by Cruiseline.com can help with all that and more – no wonder it is the most popular cruise app on the market. The app contains information on hundreds of ships across more than 20 lines. Some of the most useful features are the online forums that let you chat with fellow passengers before the cruise, but this app also has deck plans for most cruise ships, deck cams, a budget tracker, detailed port and excursion information, a cruise countdown, and more. Many of the features also work offline, to help reduce roaming charges and spending on pricey on-board internet packages.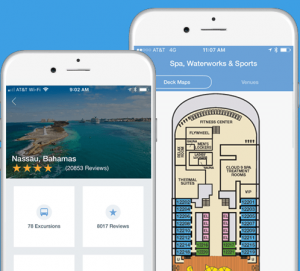 Finding the right cruise
With so many cruises to pick from, choosing the one that is right for you can be a daunting task.  Luckily, there are a few apps on the market that can help. One of the most popular is Cruise Critic, a website which is also available as a free app. The site and app feature forums where other cruisers can share their knowledge and opinions on just about anything cruise-related. Another popular app is Cruise Picker, which allows users to compare cruises on different lines by destination, length of cruise, and price. Features include a price tracker that will send push notifications when prices drop on your favorite cruise.
CruiseMapper allows you to not only compare itineraries, deck plans, and accidents for hundreds of different cruises, it also includes a cruise finder, so you can find out exactly where specific ships are at any given time. The app and website also includes ship specs, info on ports, and deck plans for almost every cruise vessel.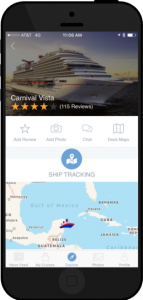 Your own personal assistant
TripIt acts like a virtual personal assistant for cruises and travel. Forward your confirmation emails to the app and it will assemble a master itinerary showing you where to be and when. It includes options for how to get from one place to the next, airport and port maps, places of interest, and safety information. You can also share your plans or sync calendars with others from inside the app. Available in a basic version for free.
Fish identifiers
This app is not specifically for cruisers, but if you are fascinated with fish and want to learn the difference between a barramundi and a barracuda, Fishes: Greater Caribbean can help. Developed by the Smithsonian Tropical Research Institute, the app includes information on more than 1,600 species of fish and includes more than 5,500 photos. You can search using common names, location and features such as shape, color, etc. Information includes information on each species and a map of its range. The app works offline and is available free from iTunes.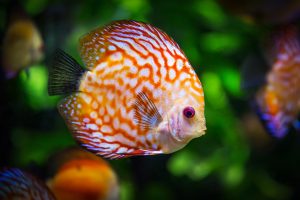 Star finders
For those who would rather to look up than down, there are several star finders that can help illuminate your nights on board. Star Walk 2 is an augmented reality app that makes it easy to find out what stars you are looking at. Once downloaded onto an iPad or smartphone, tilt the device toward the sky and the app will let you know what stars and constellations are up above. It will also alert you when the ISS is overhead, and notify you of celestial events. Tap the screen to find out the names of individual objects. You can use the app to take a screen shot of the sky and post it to social media, and there is also a kid-friendly version. Available in a free version on most devices.
Another good choice is SkyView, whose free version offers a number of options. It works similarly to Star Walk and allows viewers to tap on objects to get detailed descriptions, along with projected path and coordinates. The app also has a night mode to make outdoor use easier, and can adjust the size of the stars and planets in the sky to give those with vision issues a better look. For those planning on romance under the stars, or who just like background music, the app can also provide atmospheric music. Available in a free version on most devices.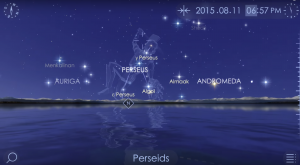 Saving money
As anyone who has been on a cruise knows, its the little extras which can easily add up to break the budget. Most cruise line apps allow you to check your balance through the cruise line app, but it can also be helpful to keep track of what you are spending as you spend it. Cruise Card Control offers an app that allows you to plan and create a personalized budget. You can keep track of your spending by category, such as 'spa' and 'drinks'. The app also allows you to view graphs, so you can see at a glance where you are in your budget, and allows you to save photos of receipts in the app. It also works offline – saving roaming fees.
Talk for free
Most cruise line apps now include built-in messaging tools to allow you to keep in touch with friends and family on board without using data or Wi-Fi. For an additional $5 fee, Carnival's cruise app adds a 'chat' feature that allows passengers to communicate using text messages. Disney Cruise's Navigator app offers free in-app messaging and chat features, along with specialized Disney emojis for use on the ship.
If you are on a cruise that does not offer a free chat feature, and want to save on WiFi and roaming charges, you might consider Signal, which allows users to send group, text, picture, and video messages for free. As an added bonus, it also allows you to encrypt your conversations and messages. Available for free on iOS and Android.
No more motion sickness
Love cruising but spend the first day or two suffering from seasickness? SicNoMore claims to have a solution. Motion sickness is caused by a lack of balance between the way you visually perceive movement and the way your vestibular system (inner ear) senses movement. The app works by providing a guide to sync up the two senses. Download the app onto a device, position the device in front of you and focus on the balancing line.
Trip journal
What fun is a trip if you can't share it with friends? There are a number of apps that make this easy and fun. LiveTrekker will track your cruise as you go, marking the route on an on-screen map. The app then lets you add photos, videos, audio, and text, to create an interactive map of your holiday. Polarsteps offers a similar app, which checks your phones' GPS and uses the coordinates to plot your location on a colourful map that can be easily shared. You can also add photos and comments, then share the whole thing on Instagram, Facebook, or using a link that can be pasted into an email, WhatsApp or SMS.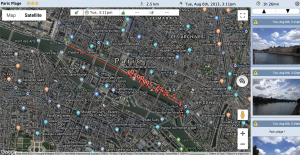 Finding Wi-Fi in port
Cruise ship internet speeds are getting faster all the time, but they are not yet as fast as those on land. They can also cost money. Save money by waiting until you are in port to upload photos and videos to friends and family. Find free Wi-Fi anywhere in the world using Wi-Fi Finder. The app will direct you to the nearest restaurant, bar, or hotspot with Wi-Fi and can also determine where to get the best signal.
Read and make your own Reviews on Cruising Journal, the international cruise ships Reviews Website!
Lisa Magloff
Comments