A-Rosa Alva
1 reviews | 164° place out of 580
61.93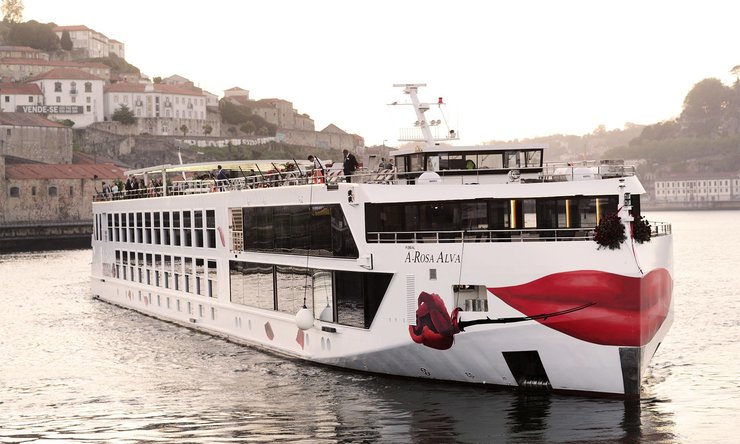 Details
Shipyard

WestSEA Shipyard (Viana do Castelo, Portugal)

Year

2019

Length

80.00 m

Beam

11.00 m

Tons

0 gt

Decks

4

Cabins

63
Passengers

126

Crew

36

Crew/Pax ratio

1 : 3.50

Currency

Language

English

Flag

Portugal
Description
A-Rosa Alva was built in 2018 and has a length of 79.8 m and is 11.4 m wide. The ship can accommodate a maximum of 126 passengers in a total of 63 cabins. It runs along the banks of an important river in Portugal, the Douro. Portugal is synonymous with spectacular cliffs, good wine and melancholy Fado music.
Beginning in 2019, the A-Rosa Alva ship has provided the opportunity to discover the beauty of the Douro and travel to the heart of Portugal. The port of departure is in the city of Porto. It is possible to stroll in the beautiful old town, enjoy the view from the highest bell tower in Portugal or taste one of the 365 dishes of Bacalhau, the most popular Portuguese fish. On board the ship, every comfort is available to make your river holiday truly perfect.
Meri Biagetti
Embarkation and disembarkation
auf dem Douro mit Arosa Alva
Schöne Kreuzfahrt auf dem Fluss Douro an Bord der A-Rosa Alva. Das Schiff war sehr schön, ich habe den Panoramasalon mit Blick auf die Landschaft sehr genossen. Durchschnittliche Küche mit portugiesischen Spezialitäten. Alle Mahlzeiten wurden als Buffet serviert. Komfortable Kabinen mit allem Komfort ausgestattet, Sauberkeit war auch gut. An Bord wird Englisch und Deutsch gesprochen, so dass die Verständigung mit dem Personal einfach ist. Die Abendunterhaltung begleitete uns mit dem Piano. Schöne und befriedigende Reiseroute. Alles in allem eine gute Erfahrung mit A-Rosa Flusskreuzfahrten.
---
---
Ports of call: Porto, regua, pinhao, barca d'Alva, salamanca
---
Embarkation and disembarkation
Buffet restaurants quality

Speciality restaurants quality
Would you cruise this ship again?

Do you recommend this ship?
---